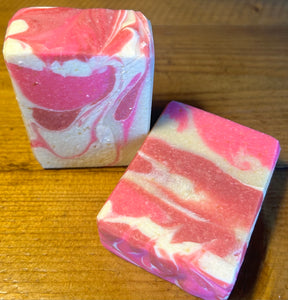 Ingredients: Olive Oil, Coconut Oil, Goat Milk, Lye, Shea Butter, Rice Bran Oil, Fragrance Oil, Titanium Dioxide, Mica
Persephone's Kiss: This dreamy scent has top notes of mandarin orange, melon, blackberry, and violet leaf, followed by notes of lavender, jasmine, lily-of-the-valley, and nectarine. The bottom notes are fresh honey, oak, and musk.
Our goat milk soaps have a silky feel that cleans without drying out your skin. Because all of our soaps are handmade in small batches, weights and designs may vary.