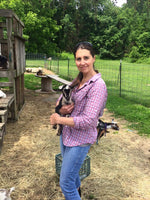 Chickens are a gateway drug ...
Our farm story started with a bunch of chickens and a love of goat milk soap. Mt. Dearborn Farm is now home to chickens, turkeys, goats, sheep, pigs, alpacas, llamas, cows and horses. It's a crazy, busy life and we love it!
Location
Mt Dearborn Farm
152 Mt. Dearborn Road Weare, NH
Visit the farm in person
By Appointment Only!