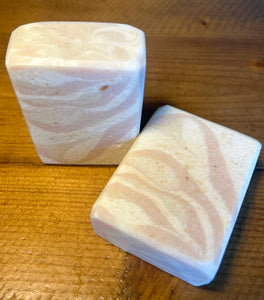 Ingredients: Olive Oil, Coconut Oil, Goat Milk, Lye, Shea Butter, Rice Bran Oil, Fragrance Oil, Titanium Dioxide, Mica
Love Spell is a fresh, sensuous fragrance oil with top notes of grapefruit, clementines and strawberries. Middle notes are peach, black currant, and rose petals. Rounding out the scent is a sweet, white musky base note. This fragrance is similar to Love Spell® by Victoria's Secret.
Our goat milk soaps have a silky feel that cleans without drying out your skin. Because all of our soaps are handmade in small batches, weights and designs may vary.