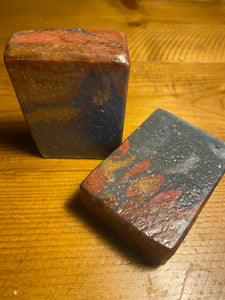 This fragrance is a popular incense scent. 
Olive Oil, Coconut Oil, Goat Milk, Rice Bran Oil, Lye, Avocado Oil, Shea Butter, Fragrance Oil, Activated Charcoal, Beet Root Powder, Tumeric Powder, Mica
Our goat milk soaps have a silky feel that cleans without drying out your skin. Because all of our soaps are handmade in small batches, weights and designs may vary. Approx. 4 oz.