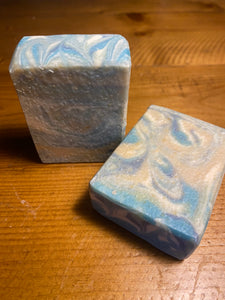 Named after 8th and Ocean Streets in Miami, this fragrance reminds me of summer on the beach with fresh notes of ripe melon along with orange slices, lemon and lime peel combine with a fresh cut grass, jasmine, violet and lavender in the background.
Ingredients: Olive Oil, Coconut Oil, Goat Milk, Lye, Rice Bran Oil, Cocoa Butter, Avocado Oil, Fragrance Oil, Micas
Our goat milk soaps have a silky feel that cleans without drying out your skin. Because all of our soaps are handmade in small batches, weights and designs may vary. Approx. 4 oz.