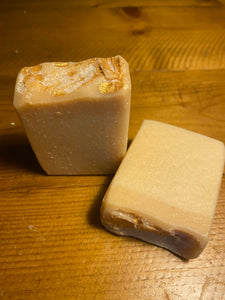 Spread the Christmas spirit with the 3 Gifts - Gold, Frankincense & Myrrh with an orange undertone. Heavenly! 
Ingredients: Olive Oil, Coconut Oil, Goat Milk, Lye, Rice Bran Oil, Avocado Oil, Mango Butter, Grapefruit, Frankincense and Myrrh Essential Oils, Mica
Our goat milk soaps have a silky feel that cleans without drying out your skin. Because all of our soaps are handmade in small batches, weights and designs may vary. Approx. 4 oz.